TIM HUNTER (Pastor)
– VOTED IN May 2017 as our bi-vocational pastor.
Pastor Tim has been in ministry bi-vocationally or full-time for 25 years as of July 2018. He has planted and pastored two churches for over 16 years and served on staff for two other churches. He has a Masters of Divinity from New Orleans Baptist Theological Seminary.
Joining Pastor Tim at MSBC is his beautiful wife, Tamara Stewart, and they have been married since July 1990. They have three adult children: Delaney Daniel, Mallory Hunter, and their youngest Clay Hunter who serves on our Tech Team.
Our pastor is a God follower first and a Georgia Bulldogs fan second! We are so blessed by him and his family and are excited to see how he leads us at Mount Salem Baptist Church.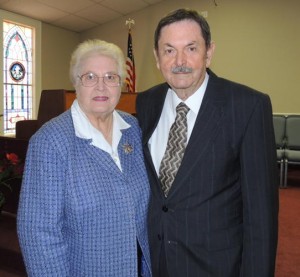 Pastor Paul Wade and his wife, Liz Wade
PAUL WADE (Pastor Emeritus)
– RETIRED November 2, 2014 as associate pastor.
I love people and love to tell people about Christ and the hope He offers through salvation. I enjoy being outside, gardening, and my favorite thing is fishing. Liz is a retired teacher and an accomplished singer. She sings and performs for the "Voices of North Georgia". We have two daughters and two grandsons. I have been in ministry since 1952. I became a believer after coming home from serving in the Navy at the age of 20. Soon after, I accepted the call to preach.
On a fourth grade education, I attended college, taught school, and graduated from Norman College, Mercer University and New Orleans Baptist Theological Seminary. While at Norman College, I met my lovely wife Liz. We have been married for 56 wonderful years . I was awarded the honorary doctorate degree in 2008 from Grace Bible Institute and I am also the Pastor Emeritus of Zion Hill Baptist Church in Buford GA.