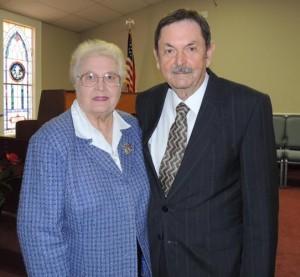 PAUL WADE (Pastor Emeritus)
- RETIRED November 2, 2014 as associate pastor.
I love people and love to tell people about Christ and the hope He offers t

hrough salvation. I enjoy being outside, gardening, and my favorite thing is fishing. Liz is a retired teacher and an accomplished singer. She sings and performs for the "Voices of North Geor

gia". We have two daughters and two grandsons. I have been in ministry since 1952. I became a believer after coming home from serving in the Navy at the age of 20. Soon after, I accepted the call to preach. On a fourth grade education, I attended college, taught school, and graduated from Norman College, Mercer University and New Orleans Baptist Theological Seminary. While at Norman College, I met my lovely wife Liz. We have been married for 56 wonderful years . I was awarded the honorary doctorate degree in 2008 from Grace Bible Institute and I am also the Pastor Emeritus of Zion Hill Baptist Church in Buford GA.